The holiday season is a special time of year in which people around the globe take time to celebrate and give thanks, and of course, spend quality time with loved ones. It's a season that is full to the brim with special days for those of various faiths, parties, gatherings and so much delicious food that putting on a few pounds is usually expected. It's a wonderful time of year that brings a lot of joy and happiness to so many. But in spite of all this wonderfulness happening seemingly everywhere, the holiday season can be, for some, a time of intense loneliness and severe depression. In fact, a survey conducted by The American Association of Retired Persons (AARP) found that 31% of respondents reported they, "have felt lonely during the holiday season sometime during the past five years."
While it is a common misconception that the holidays naturally lead to more depression, many in the medical community acknowledge that the holidays can create additional stress in people's lives, and that can trigger anxiety, and of course, depression. There's so much to do, so much to accomplish, and everyone's attention is pulled in different directions; it's enough to surely bring on some extra stress, indeed. But beyond the holiday rush and the stress it can bring, many people, and quite often seniors, who have lost loved ones feel that loss intensely during the holiday season, as they hold memories of a spouse or child and the great times they shared that are now gone. The loss of a loved one can be crushing any time of the year, but the holiday season does amplify it, for as families come together those who are missing someone can feel alone, left out, and abandoned.
So, this season, what can you do to reduce those feelings of holiday loneliness in your special seniors? Let's discuss a few ideas that can help to reduce those feelings of holiday loneliness in the seniors who are near and dear to your heart.
Get in Touch and Get Real
Unfortunately, it's not always possible to get the entire family in one home or even one city or town for the holidays. Families spread out across America and even the world. We feel fortunate for every one we can see during this time, but often seniors who are unable to travel, or need to stay close to their senior community, are forced to spend the holidays alone. This is why it's important to get in touch and get real. Obviously, a phone call is a great idea, but a video call is even better because your loved one can see everyone and see their happy holiday faces. But regardless of whether it's a standard call or a video call, allow ample time for each family member to offer their personal holiday thoughts and greetings. Personal time one-on-one is better than just a big "Hey Grandpa! Happy holidays!" and then everyone runs off to whatever they were doing. While it's great to see everyone together for a minute, the one-on-one conversations, even if they're brief, will help your senior loved one to feel special, cared for, included and loved.
And when every family member has had their time, finish the call by getting real with your senior loved one. Remember, if you're talking about how busy you are, or listing all the things you've still got to do to prepare for this holiday event or that one, you probably won't be successful in getting a real dialogue going. Therefore, keep the conversation about your loved one. Chances are you're someone whom they will open up to if you give them that opportunity. So ask your loved one how they're doing directly. Let them know you really want to hear what's on their mind, and know how they're feeling, physically and emotionally. Many times, seniors don't share because they don't want to burden you. Ask them. Listen. And let them know that you understand the holidays can be difficult. Sometimes just simply listening is enough to help ease the holiday loneliness in the seniors you care about most.
Sharing the Holidays with Seniors in Person
If you're fortunate enough to be able to share this holiday season with your senior loved ones in person, then you'll have great options for activities and events that can help them reduce feelings of loneliness. Because calls are great, and video calls are better, but being together in person is the best of all. Here's a few of our favorite holiday activities that bring the whole family together.
Enjoy Music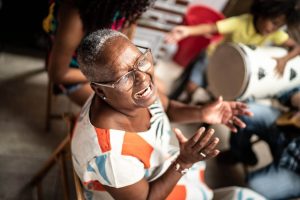 Music is emotional, powerful and connects and unites us perhaps better than any other art form. Everyone loves those classic holiday songs, many of which we all know the words by heart. This holiday season, dust off the album collection or hit an internet music app and let the holiday sing-alongs begin. It's hard to have sad thoughts when you're singing about a reindeer with a brightly colored nose or a talking snowman. Holiday songs produce happy feelings, and that's a fact. There's increasing scientific evidence that singing releases endorphins that positively impacts mood. Additionally, singing is healthy as it is an aerobic activity, and exercise of any sort is a mood enhancer as well in that it typically helps relieve anxiety.
So, when you choose your sing-along songs, or create your fireside playlist, be sure to include plenty of songs that were popular when your senior loved one was young because songs they know well will likely make them want to join in on the fun, and can sometimes bring back happy memories of holiday seasons from years ago. This is especially productive for seniors who may be experiencing dementia, because though dementia often ravages short term memory, dementia sufferers may still have vibrant memories from decades past.
Games: Free Family Fun
Playing games together as a family is another way you can create positive emotions in seniors who may be experiencing holiday loneliness. There are unlimited options when it comes to fun games that the whole family can enjoy. You probably have a number of board games already, stored away in a closet, but if you don't take a quick drive to any thrift store and you'll likely find a treasure trove of options there.
If you're ready to play now, and have nothing in the house, you can always play Charades. Charades is an active game that can be played by a few or played by a large group. It's fun and keeps everyone thinking, laughing, and working together to win. Games are an inexpensive or free fun activity that provide the perfect opportunity for the youngest and oldest members of your family to interact and bond. And games require strategy, so they put our brains to work which is good for all of us but especially great for seniors who need to boost cognitive functioning. Games are a really wonderful way to keep your senior loved ones engaged, and a busy mind has less time to wander into negative thoughts that can lead to feelings of loneliness.
Decorating for the Season
The holidays are always better when the stage is set to celebrate, so decorating is a great way to accomplish this goal. Decorating is a topic that is certainly worthy of its own article as there are so many ideas to explore, but we'll just discuss a few of our favorites. The great thing about decorating is that there are no rules, you can do whatever you want however you want, so just get going!
If you're feeling creative, you can bond with your senior loved ones by making holiday decorations from scratch, which keeps the brain active and can help to fight off feelings of holiday loneliness. When you find activities that your senior loved one enjoys doing they'll be more likely to participate, and participation is inclusion, which can help with depression or negative thoughts.
If you prefer to buy your decorations, every store in town is ready to sell you what you need, and shopping for the right ones is a fun activity that you and your senior loved one can do together. Everyone loves a holiday car trip so put on those winter coats and get going. And while you're out shopping for decorations, you'll get a chance to bond, laugh, and enjoy those good holiday feelings together.
Enjoy the Season!
It doesn't really matter which activities you choose, anything that brings the family together and makes your loved one feel included will be a step in the right direction for decreasing their feelings of holiday loneliness. Enjoy the season together and you'll create some new and wonderful memories.
Happy holidays — from our family at The Mansions, to yours!